Discover more from Bookmarked
A weekly newsletter that profiles one book from every country.
Over 1,000 subscribers
📖 🇦🇬 #8: A coming-of-age tale from Antigua
A touching story about independence
Welcome to Bookmarked, a weekly newsletter following my journey as I read one book from every country. If you're enjoying my project, I'd love it if you shared Bookmarked with a friend.
---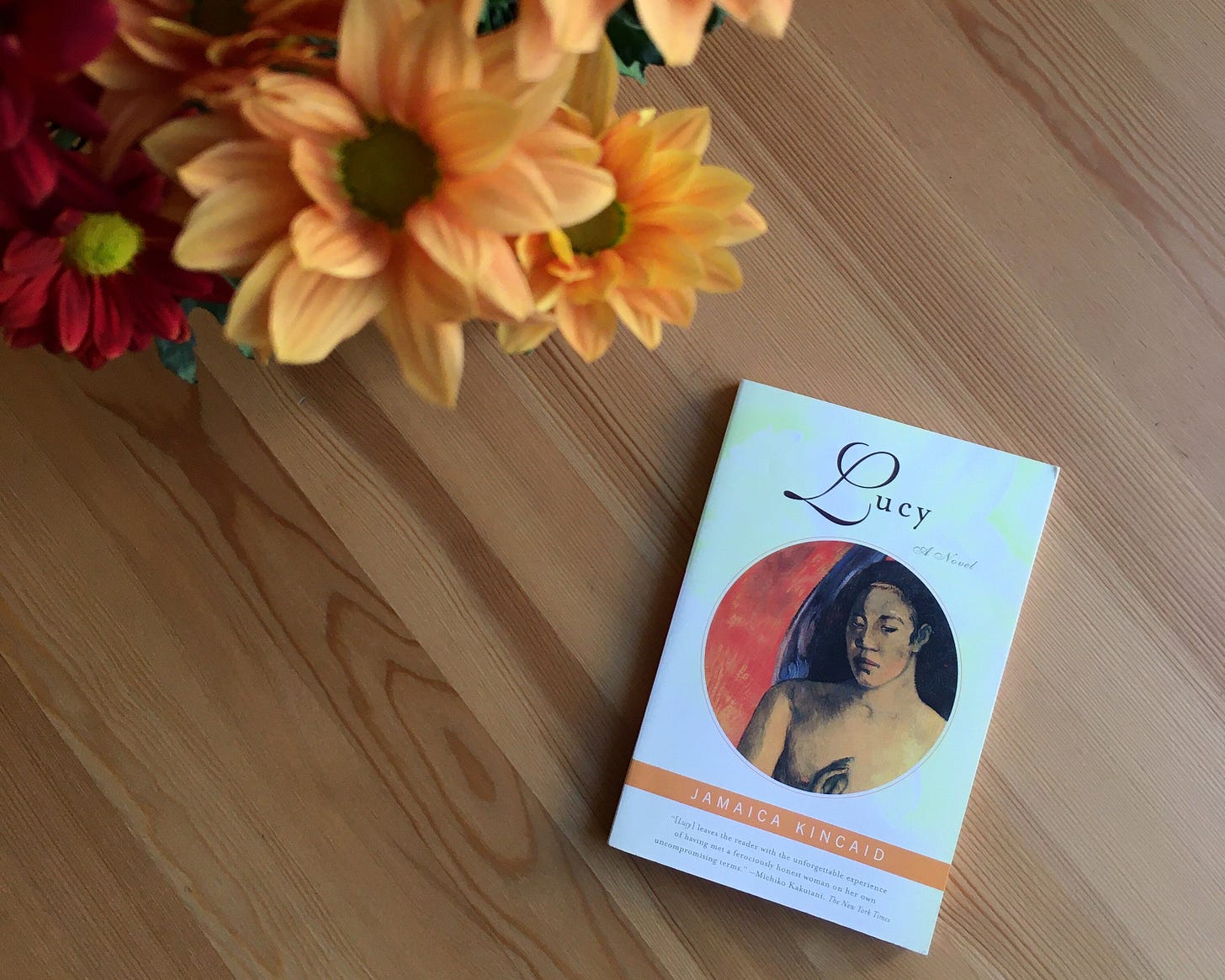 I'd been looking forward to reading Antiguan author Jamaica Kincaid's Lucy ever since first hearing about the novel on Ann Morgan's blog, the inspiration behind my project. Then I heard speculation that Kincaid had a shot at winning this year's Nobel Prize for Literature and though the prize ultimately went to Louise Glück, it seemed like a good reason to bump Antigua and Barbuda up my list and get stuck into what turned out to be a very moving story.
The 164-page coming-of-age novel centres around the eponymous Lucy, a nineteen-year-old girl from the West Indies who moves to North America to work as an au pair for Mariah and Lewis, a seemingly perfect couple with four children.
Lucy is a delightfully plain-speaking narrator who spends her first year away from home exploring who she wants to become while steadfastly refusing to commit to anything or anyone. In part, this is Lucy's response to being free from her controlling mother, whose letters she does not open. But her bid for independence is also the result of a childhood governed by colonial forces—something that Mariah only acknowledges superficially.
"Mariah reached out to me and, rubbing her hand against my cheek, said 'What a history you have.' I thought there was a little bit of envy in her voice, and so I said, 'You are welcome to it if you like.'"
Though she appreciates Mariah's kindness and even comes to see her as a sort of substitute mother, her employer's refusal to acknowledge their cultural differences grates on Lucy. Baffled by Mariah's reaction to a snowstorm in early spring, Lucy asks herself, "How do you get to be a person who is made miserable because… the weather doesn't live up to your expectations?" Try as she might, Lucy cannot understand Mariah's tendency to view minor inconveniences as personal affronts. Meanwhile Lewis's infidelity feeds into her growing sense of disillusionment.
Outside of work Lucy strikes up a friendship of convenience with Peggy, a carefree Irish woman with whom she goes out to meet boys. Her first relationship is with Hugh, who sets himself apart from the other North Americans Lucy meets by bothering to ask where in the West Indies she's from. Lucy spends much of her first year in North America reflecting on the home she has left behind. In one especially memorable scene, she wishes her island had been colonised by the French instead of the British.
"They were much prettier, much happier in appearance, so much more the kind of people I would have enjoyed being around. I once had a pen pal on a neighbouring island, a French island, and even though I could see her island from mine, when we sent correspondence to each other, it had to go to the ruler country, thousands of miles away, before reaching its destination. The stamps on her letters were always cancelled with French words for liberty, equality, and fraternity; on mine there were no such words, only the image of a stony-face, sour-mouth woman."
Lucy is full of contradictions. She's incisive but inscrutable, resilient yet vulnerable, hopeful in spite of her bitterness. She wants to move on from her past, but finds herself struggling to escape the ways it has shaped her perception of the world. Unable to enjoy living in the moment, Lucy is left feeling disappointed and unfulfilled by North America.
Kincaid is a lucid writer who uses precise, economical prose to present a sharp and moving perspective on adolescence and British colonialism. I'm so glad this project brought Lucy into my life and I'm looking forward to reading more of Kincaid's writing.
Lucy by Jamaica Kincaid (Farrar, Straus and Giroux, 1990)
---
More books from Antiguan and Barbudan authors
Here's a list of the other books I was recommended this week:
The Cleansing of the Souls by Romenita F Barrett

Frigid Summer by J. Carie-Ann Burton

Dancing Nude in the Moonlight by Joanne C. Hillhouse

Considering Venus by D. Gisele Isaac

Unburnable by Marie-Elena John

Ladies of the Night by Althea Prince

Under the Calabash Tree by Leon Chaku Symister

Through the Window by Floree Williams
What have you read recently?
If you've read a brilliant book in translation or want to pass on a recommendation, I'd love to hear about it! For this project, I'm focussing on contemporary fiction and short stories, with a preference for female authors—but I won't be too dogmatic about it so do share recommendations that don't quite fit the bill, too.
You can get in touch by replying to this email or leaving a comment. I'll be featuring your recommendations in upcoming newsletters, and I'll keep a growing list here.
---
Bookmarked is written by Tabatha Leggett. Thank you to Patrick Jamieson from West Indies Books and Joanne C. Hillhouse from Wadadli Pen for their recommendations for this issue. If you've been forwarded this email and you enjoyed it, you can subscribe below.